About Suzanna - current, California
If you ever wonder about my accent, written or spoken, it's all mixed... Czech, Slovak, Swedish, and now some American in it, too... Born in Czechoslovakia, mom Slovak, dad Czech... I lived in Czech part of the country, so I was Czech. Relocated to Sweden in 1988, to escape the communist regime in my home country... Lived wonderful life in Northern Sweden, close to the Arctic circle, enjoying long winters and skiing... But then in 1995 I discovered California and I fell in love with Venice Beach immediately, so I moved there 1996 and I have been living here happily ever after!

From the University Lecturer in Computer Science I turned into a personal trainer and loving it! And in the free time I became a Roller Boogie Queen... And then a drug-free bodybuilder, Ms. Natural Olympia 1999... And then an avid tennis player, even learning being ambidextrous... As a part of fitness training I toss and swing kettlebells all over the Gold's gym. And when I get tired from all the physical work, I sit down and write tennis fitness articles and books. And if you wonder, yes, I do speak all these languages and some more too.
So here I am, in Venice Beach, just 6 blocks from the famous Gold's Gym and from the beach. Who wouldn't want to become a bodybuilder here? I did! So, every day at noon I used to ride my mountain bike to the Mecca where I was busting my booty to put on some more pounds of meat to my 6 foot frame. A couple of times a week, I practiced Olympic lifting or danced in a hip-hop class. You should come and see that: a big tanned girl pop locking! It's a memory for ever.

The beach is just behind the corner from me, and that's my other favorite spot. I used to shake my 190 lbs booty, with 8 wheelson my feet, to the hip-hop groove. If I don't shake it, I break it... I mean, I break dance, too. And now, every day, I grab my bike and ride to the beach in Santa Monica to these beautiful tennis courts with the fresh breeze and smell of the ocean, and bang the fuzzy tennis ball over there... My 6 ft frame is carrying about 160 lbs now, so I am much faster on the court than I would be in my offseason bodybuilding shape.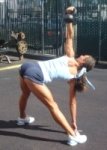 I am a full time personal trainer. Before, between my work and workouts, I used to lift men above my head, which I exchanged for swinging 88 -106 lbs kettlebell... And most of the time I am swinging my tennis racket. Every morning I take long walks around Venice hood or by the ocean with my senior doggie girl Peanut, and the chocolate forever-puppy monster (I mean Labrador) Zuzi. The both are the sweetest creatures one can see on the Earth - or in Venice Beach anyhow.
Now I guess you are so excited to know more about the joyful life of a braided Lioness (who lost her mane after 13 years, and is braidless) and you just cannot wait to finish this intro. Ready to surf around? When you are done, don't forget drop me a note to tell me how much you like me :-) And if you don't like me, just lie, it's good for my Leo personality... Heee, heee...
You can even buy a photo or buy the 60 min long video of this roller dancing, 6 foot bodybuilding tennis queen, and put me into your girlie collection. If if you don't want to spend your money on me, then you can read my free articles about fitness and injury prevention for tennis, sports and life.
About Suzanna - past, Europe
I was born in Czechoslovakia during the communist time. Very interesting time! It was not that easy to buy fresh fruits, vegetables, or meat. You had to wait in the line for a couple of hours just to get basic food. We did not have equipped gyms and we did not have any idea about proper nutrition. As a kid I started to compete in cross country skiing. I was 10 years and I approached a national level coach (I did not know) and told him I wanted to train with him. He laughed (I guess I was cute) and took me. Kid among juniors. I became a national level skier. That allowed me to go to special schools for skiers, and I had access to a gym. So there started my first "friendship" with weights.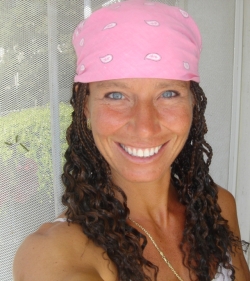 During my teenage period, when I discovered boys, I stopped skiing and tried all other sports. I competed in cross country running, basketball, swimming, soccer... Name it. I liked challenges, I wanted to learn everything and be the best that I possibly could. I started to study at university, computer science. That was funny, during the communist regimen, about 40% of education was a political science. Guess how much we liked it. I got my master degree, and I still competed in sports, went back to cross country skiing. My mom remarried and moved to Sweden. There were better opportunities for everything - work, freedom and life in general. So I moved too. I was 23 years old. I learned Swedish in one year and moved north to the Arctic Circle to get another Master degree, in "real" computer science, without any politics. I made it quick, got my second master degree, and started to teach at the University. And I was still in love with sports. I started to do downhill skiing. And just to make it more challenging, I loosened my heels and cruised downhill in Telemark style. I started to teach hip-hop and weight classes at the university, and soon I was know as a sadist. I started to train skiers in sport specific training, and soon hockey and soccer players hired me too. These big buffed guys with even bigger ego started to laugh when I walked into the gym (and at that time, I was already pretty big, for a girl). They were thinking "what could this girl possibly do to us?". Their faces froze in about 10 minutes of training and the smile was gone. They had another 50 min to go. I did all training together with them and believe me, I kept my smile wide. Next time when I entered the room, I was welcome with respect and fear. I loved that. Laughs.
The university work was great, I was feeling like I was forever young. Teaching and training all these "kids". Only time I realized I am getting older was in the beginning of each school year when I got the list of my new students with their birthdays. It started to be a 10 years difference.
1995 I went for a vacation to California. So exciting. I've been travelling every year at least one month, Thailand, Turkey, Croatia... but never in US. I found and fell in love with Venice Beach. Half year later, I came back for two months vacation. I loved it even more. Went back home, sold my house, said bye bye to my students (it was a bit harder to say bye bye to my family and friends) and I returned to Venice - with a mountain bike, one bag and no place to live, and I didn't speak English, and I didn't know anybody... But I made it! And now I live with my doggie girl Peanut in the paradise full of sunshine, palm trees, ocean. And the life is just perfect. End of the story... What is the moral?
Only those who risk going too far can possibly find out how far one can go
Tennis season 2007
This year, I got approached if I would like to play with a special, two-handled racket (see the picture), to be able to play with left hand and right hand. I tried, and I was horrified how non-athletic I was on the left side. So it became a personal challenge, to learn how to play left-handed, to become a complete athlete. It took about 2 months to learn a good leftie-forehand. I am impressed myself how quick the process went. But I did put A LOT of effort into this. So now my goal is to get all the shots that I have on the right side,also on the left side. How cool is that?

My workouts are still pretty tough. Tennis every day 1-2 hours, mostly singles, because I like the intensity. Weight training 2-3 times a week - and I started to work with kettlebells! It is a beautiful form of total body workout. Creative, intense, and focused. I am loving it. It works the body as a unity in a very functional way. Very good for athletes! I used to be part of the Dowgtown Kettlebell Club in Venice. But now the club doesn't function that well, so I am back to my regular training. Besides all the hard work, I stretch every day a little bit, and about 4 times a week I stretch big time, 45 min stretch, 45 min myofascial release on the foam roll/ball. And now I am also learning about the Egoscue method of balancing body. Also, last several months, I've been focusing a lot on balance and strength in the hips

Height

6'00"

Weight

158-160 lbs

Calf

15"

Thigh

24"

Booty

38"

Waist

28"

Chest

38"

Biceps

13"

My diet is even more simple than last year - I don't eat any chemicals. I don't really count the carbs, protein and fats, but I read the labels to see how pure the food is. I eat a lot of fruit and dried fruit, nuts, Larabars (mishmashed dried fruit and nuts), high protein cereal with low carb milk, veggie burgers, oatmeal, powerbagels, full corn bread, and that's about it. Occasionally, if I eat out, I have a turkey or chicken, or fish, but I don't even rememeber when I had meat last time. Also, I am not using protein shakes anymore... I think I am too lazy to mix them, lol. I noticed, that for that amount of ativity that I do, sprinting on the court for hours, I really need a lot of carbs. I also feel that they are easier to digest, so I am always light in my tummie, and ready to exercise any time during the day. I often eat my powerbagel with cream cheese as I am driving to my tennis practice, and when I step on the court, my tummie feels just fine.
Tennis season 2006
Height

6'00"

Working on my tennis game. I have 3 different coaches, in three different locations. Playing every day for 1-2 hours, sometimes twice a day, 7 days a week. My body is getting pretty beat up, so I have to take a good care of it... my weight workouts 2-3 times a week, lots of stretching and myofascial release (on a foam roll). I've been playing tournaments and team tennis competition. I won most of my team tennis matches, and at my age level, I've ranked 43 nationally. Next year, I plan to climb up higher.

My tennis diet is very simple... I don't diet!!! :-) I eat more carbs then during my bodybuilding years, as I burn so much energy on the tennis courts. I eat bunch of fruits. That's the carb addition. The rest I try to keep clean, low carb breads, lot of good grains, lean protein... I am not so perfect with counting my protein. I know I get enough from all the clean foods I eat. I still restrict rice, and this kind of carbs. No noodles. No processed carbs. My treats are dried apples, dried cranberries, and similar. So it's all quiet healthy. I am lazy with my supplements. I do L-Glutamine, multivitamin and minerals, and vitamin C. Of course protein powders now and then. I stopped eating the protein bars, just too much chemicals in them. Still drinking a lot of water.

Weight
160-164 lbs
Calf
15"
Booty
38"
Waist
28"
Chest
38"
Biceps
13"
Tennis season 2004-2005
Summer 2002, I wanted to have a new "challenge" and started to play tennis. In 2003 I was working with a coach and learning really fast and well this amazingly challenging game, so I decided to start playing competitevely. In March 2004, I joined a (team) tennis league in Studio City and started to play matches. And in April I added tournaments too. I played 6 tournaments and won 4 of them. Which at the end of the year gave me a ranking no. 3 in Southern California... That was a good year! I've changed my coach, and also added different coaches as well, and my game is still developing... now planning new challenges for the 2005. Probably to get ranked nationally.

My workout schedule is about 3-4 times in the gym, upper-lower body split... I do upper body twice for sure, and legs once or twice, depends how much tennis I play. In one workout, I blast my upper/lower body in a few mini-circuits (3-4 different exercises, 4 sets all together), repeating them 3-4 times - all together 48 sets, done in one hour or less. I am borning in the gym (LOL), I don't socialize at all.

Height

6'00"

Weight

168-171 lbs

Calf

16"

Thigh

25"

Booty

39"

Waist

29"

Chest

40"

Biceps

14"

I hardly do any cardio in the gym anymore. All my cardio is on the tennis court, at least 1.5 hour tennis a day, some days I play twice... It's very intense, I don't like to play doubles much, because it's so slow. And my practices are quiet often drills, so the intensity is HIGH! I just love it!

I can say that I exercise at least twice a day (weights and tennis, or tennis and tennis), sometimes even more if my schedule get "messed up" by commiting to too much. I just don't like to cancel on my tennis partners. My weight is nice and light 170 lbs, keeping it pretty much similar all year around. Now heavy weight swings, off-season and on-season, like in bodybuilding. And I don't even need to diet hard, just watching what I eat and eat quiet healthy. But I allow myself to eat more carbs than I used to during my bodybuilding days.
Tennis season 2002-2003
I've competed in bodybuilding since 1997 until I think 2002. You can see the .Contests page for the results. Fall 2002, I started to play more tennis. And the 2004 I've been playing A LOT. Competing in leagues and tournaments. I don't do any cardio in the gym anymore. Tennis (2-5 hours a day) is my cardio... Weight training is about 3-4 days per week. My physical dimensions have changed too... My off season weight is almost less than my competition weight and I feel light and lean. My legs are cut and you see all the separation. I often get comments what show I am getting ready for. :-) Following table is the tennis "light" weight. Compare to the below, my off season bodybuilding weight

Height

6'00"

My tennis diet is very simple... I don't diet :-) I eat more carbs then during my bodybuilding years, as I burn so much energy on the tennis courts. I eat bunch of fruits. That's the carb addition. The rest I try to keep clean, low carb breads, lot of good grains, lean protein... I am not so perfect with counting my protein. I know I get enough from all the clean foods I eat. I still restrict rice, and this kind of carbs. No noodles. No processed carbs. My treats are dried apples, dried cranberries, and similar. So it's all quiet healthy. I am lazy with my supplements. I do L-Glutamine, multivitamin and minerals, and vitamin C. Of course protein powders now and then. I stopped eating the protein bars, just too much chemicals in them. Still drinking a lot of water.

Weight
173 lbs
Calf
16"
Booty
40"
Waist
29"
Chest
40"
Biceps
14"
Bodybuilding season 2001
Height
6'00"

So now you want to hear everything about me? Let's start with the physical. My height is about the same, all year around. Smile. My lightest weight was 170 lbs, at 8.5% body fat. All drug free... I felt like this was a great achievement. The heaviest in 2000 I was 204 lbs in the off season. I looked fluffy, so my best off season weight is around 185 lbs. I am still working on cutting down my legs and bringing up my upperbody, especially arms and shoulders.

Weight (offseason)
190 lbs
Weight (contest)
176 lb
Calf
16.5"
Thigh
26"
Butt
41"
Waist
30"
Chest
41"
Biceps
14.5"
Bodybuilding season 1999
My contest diet:

6 meals a day, total 2100 cal, 330 c protein a day
First three meals were carbs+protein (oatmeal+whey) - breakfast, before weight workout, after weight workout.
Last three meals were protein and veggies.
Meal five and six were half size, before cardio and after cardio.
I was drinking about 3 gallons water a day.
Daily supplements: 10 g vitamin C, multimineral, multivitamin, Ripped Fuel (Twinlab)
I never missed a meal. If I didn't have time to eat, I made the time to eat. Running between my clients, I was sometimes eating in my car.
First 2 months in my contest diet, I had a cheat day on Saturdays, when I was off in my training. I was eating everything. Carbs, carbs, carbs. Around 7000 calories. It seems like my body rejected all crap, repaired and recovered and I was ready to go again.

My contest training:

Morning cardio on empty stomach, 45 min walking my doggie Peanut. Fast. No sniffing (sorry Peanut, you don't need to stop on each corner and sniff around for 2 minutes). 6 times a week
Evening cardio 45-60 min at the gym. Stair master or incline treadmill. No sniffing (no dog). 6 times a week.
Weights 60 min + 10 min warm up (160 lunges with 100 lbs), 5 times a week.

day 1: bic, tric, abs
day 2: shoulders
day 3: back
day 4: chest
day 5: legs, calves

Posing 6 hours a week four weeks out
Deep tissue (muscle separating) massage 2 hours a week
Sleeping 7.5 hours a night.

More about Tennis Fitness Suzanna...
| | |
| --- | --- |
| Eyes | Blue |
| Hair | Braided, dark brown for 13 years. Now back to "normal", light brown |
| Sign | Leo |
| Birthday | August 12 |
| Nationality | Czech (dad Czech, mom Slovak), Swedish passport |
| Home | Venice, California |
| Occupation | Fitness trainer, Writer, Rollerksating instructor, LASIK technician |
| Gym | Gold's in Venice, outdoors |
| Education | Two Masters in Computer Science |
| Certification | Fitness trainer, rollerblading instructor, aerobic instructor, bodyguard, scuba |
| Languages | Czech, English, Swedish, Slovak, Russina, Serbo-Croatian. Now learning Spanish |
| Personality | Positve, creative, persistent, well organized, disciplined, creative, easy going, good sense of humor, curious for new information, very in touch with the nature... hmmmmm, I wonder if I have bad features too? Well... yes. I don't like to fold my laundry! |
| Favorites | |
| Interests | Sports, writing, reading non-fiction, searching information, music, nature, animals, creating things |
| Sports | Tennis, kettlebells, weight training, Egoscue, yoga, roller skating, Brasilian Jiu-Jitsu, skiing, swimming, running, bike |
| Pets | My labrador mix, rednose Peanut, the most perfect dog in the world. And Zuzi, chocolate Labrador little "freak". So much energy, but oh so loving! |
| Music | Hip-hop, smooth jazz, R&B, Italian music |
| Singers | 2Pac, Snoop Dog, R.Kelly, Dr.Dre, Xzibit, Mystikal, Eminem, Nate Dog |
| Movie/TV show | Borat, Two and Half Men, Married with Children, Fresh Prince |
| Books | The Alchemist, Atlas Shrugged, The power of your subconscious mind, tennis books, all Dalai Lama's work, Dan Millman's books, Healthy at 100 |
| Food | Fruits and vegetables, sushi, dried fruits, walnuts, sea-weed salad |
| Car | My little dark blue (was red) Honda CRX Si, 5 spd (but I love round cars). It has about 40 tennis balls stickers... Unfortunately, it got totaled in August 2008 :-( Now I have a new toy - MINI Cooper Clubman |
| Computer | HP Pavilion dv9260. Used to be Sony VAIO. And I love Macintosh! And now it's Sony Vaio again :-) |
| People | Dalai Lama, Deepak Chopra, Dan Millman, Ayn Rand, Roger Federer, Rafael Nadal |
Read and enjoy my tennis fitness articles...