July Newsletter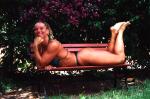 The summer is definitely here. The summer issue of the newsletter too. People at the gym are all in good shape. You too, right? It is so interesting to see at Gold's in Venice, how everybody is leaning out, getting ready for a contest or another. July 15 is Los Angeles Championship. August 4-5 is USA Championship and August 12 Ironman Magazine Naturally, August 26 Tournament of Champions. And many others are starting to prepare for the Olympia in October. That's so cool, lots of inspiration everywhere.
The beach in Venice and Santa Monica is also getting ready for the summer. The are reconstructing everything and it's coming closer to the end, looking fresh and beautiful. The big opening is planned on August 12 (my birthday! :-) ), and I was supposed to perform on rollerskates at the grand opening. But I am not going to, because I will be onstage in my bodybuilding contest. And afterwards in Cheesecake Factory eating Peanut Butter Cheesecake. See, this is the real reason of counting days to the contest. It's not the contest itself, but it's the food afterwards (how a girlfriend of mine nicely expressed after her contest last week, the mouth full of chocolate peanut butter, and my mouth was dripping and drooling, chewing on a dry chicken breast and a red bell pepper).
My diet is progressing well, I am down to about 187 lbs, about 12.5 body fat percent and I have 5.8 weeks to go. I am focused, and extremely disciplined. My 10000 calorie cheat days are a history and a "funny story" traveling from mouth to mouth at my gym.
I was working legs last Friday, working my hamstrings in a horizontal leg curl machine. I had about three quarters of the stack loaded... Just between my sets, resting and "hanging" on the machine, a short, skinny girl approached me, asking if I am getting ready for a contest or something. So I gladly explained about my preparations. She seemed like she was not a bodybuilder or a fitness girl, so I mentioned that I am trying now to hold on all muscle that I have built and just get rid of the fat and lean out. She looked and me (she was very sweet) and gave me an advice: "but you should do a lot of repetitions and light, instead of going heavy".... I looked at her, smiling "yes, I know, I am doing 15-20 reps right now". She looked at me puzzled "with this weight?" (I was getting entertained :-) ) "Yeah"... she just said "Ops", got a little red color in her face and we both laughed. I found it very funny.
One day from Lioness' life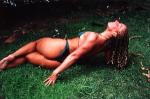 Now, please feel free to follow one of my days, with all my eating, training and all other things that I had to do... This day is slightly busier than I prefer... But sometimes it just happens, and I gotta do what I gotta do. Just staying focused and disciplined. Enter my Tuesday, June 20, 2000 (52 days left to my contest)


Getting up at 5:55 AM, with alarm clock. I didn't want to, but I have a client at 6:30 AM. I got about 7 hours sleep. First thing before I come out from my bed, I drink a HUGE glass of water, and give some attention to Peanut (my doggie girl), who yawns, stretches and wiggles her tail in my bed.
6:15 AM, breakfast - 9 oz 2% cottage cheese with 1/2 TB flax seed oil and a little bit Stevia (non-artificial sweetener). It gives 290 cal, 35 g protein, 10 g carbs, 12 g fat. Eat multivitamin, multimineral and vitamin C. Actually, I am eating vitamin C with each meal through the day.
6:22 AM rushing to leave the house. Taking Peanut with me, so she can sniff from the car window and feel like she is travelling on vacation :-) There's no traffic so early in the morning so I get to the gym on time, 6:30 AM, my client is still running on a treadmill. I torture her until 7:30 AM.
At 7:40 AM, I climb up on the stairmaster for 30 minutes morning cardio. If I can, I try to do it on empty stomach before my clients. But not when I have an early one. I go on medium intensity and burn about 400 calories.
On the way home, I stop by VONS to do some grocery, tons of chicken breasts and some vegetables. I like to shop this time because the store is almost empty. Getting home around 9 AM.
9:15 AM meal #2, 12 egg whites, 0.5 sv oats, 4 oz 2% cottage cheese. I cook the egg whites with a tiny bit oatmeal in the microwave oven, and when it's done, I top it with the cottage cheese and Stevia. It tastes like some kind of strange cake. The oatmeal in this meal is because I feel carb depleted after very low carb weekend. 345 cal, 56.5 g protein, 19.5 carbs, 3.5 g fat. Watching The Divorce Court while eating the meal... These divorcing marriages are wild!
Doing some laundry, house cleaning, writing bills and if I have some time, answering a part of my emails (it starts collecting...)
11:15 AM meal #3, 2 sv Sportpharma's Just Whey protein, mixed with a tiny bit water. It makes cookie dough consistency and it's delicious. Eating it with spoon, like a little treat. 220 cal, 46 g protein, 2 g carbs, 2 g fat.
11:35 AM getting on my bicycle, heading to The Mecca (Gold's Gym) for my shoulder workout. Starting at 11:45 AM, my weight is 189.5 lbs (so I can put it down in my book). Warming up with 4 sets of light lunges, 105 lbs for 30 reps. Then I go to my delt workout. Starting with light clean and jerks. 3 sets, 10-12 reps, 85-105 lbs. After that seated behind neck shoulder press in the smith machine, 3 sets, 50 lbs+the bar, 15, 12, 10 reps. Next 3 sets rear delts in the hammer machine, 60 lbs, 15, 12, 10. Last exercise machine lateral raises, 3 sets 105 lbs, 12 reps. I finish the workout (like every workout) with stif-legged deadlifts, 4 sets, 135 lbs, 20, 15, 12, 12. Now the time is 12:30 PM and I have to run to the stairmaster and do my 25 minutes cardio. 380 calories burned. I always have to leave the gym at 1 PM, I don't want to be late for my client.
1:15 PM, meal #4, 2.5 sv oatmeal with Stevia. Tastes like the best treat ever, especially if this is the only carbs you eat. While the oatmeal is cooking, I am taking the shower. 375 cal, 12.5 g protein, 68 g carbs, 7.5 g fat. Watching People's Court while eating.
1:45 PM preparing a protein shake to take with me and leaving the house, for my client. I torture him from 2 PM to 3 PM.
3:00 PM meal #5, 2 sc Sportpharma's Promax protein with coffee powder. The protein tastes so nasty, so I put hazelnut flavored coffee in it, a lot of coffee, and it tastes like a cappucino, or something like that. 215 calories, 50 g protein, 1 g carbs, 1 g fat.
3:10 PM posing with my choreographer. She is challenging me with things like "slide-elegantly-down-on-the-floor-flip-into-split". I fall down like a sack of potato. Even though she says it's not that bad, I feel like that :-)
After 1 hour posing, driving home, stopping by my tanning saloon for 20 minutes high intensity session. Arriving home at 4:45 PM.
4:55 PM meal #6, 12 oz chicken breasts, lettuce salad with vinegar/Stevia/garlic dressing. Yum, yum. 370 calories, 81 g protein, 0 carbs (just lettuce, whatever it is), 5 g fat. My dog is drooling on the sofa, watching these chicken breast bites slide into my mouth.
5:20 PM leaving the house for the client at 6:30 PM. Torturing her for one hour.
6:35 PM meal #7, 2 sc Just Whey protein shake, that I brought with me. 220 cal, 46 g pro, 2 g carbs, 2 g fat.
6:40 PM My next client is arriving, a bit late. I torture him for one hour.
Driving straight to my other gym (Gold's), i.e. not stopping home, and at 8:00 PM do my evening cardio, 60 min stairmaster. I read the book at the same time, otherwise I wouldn't have any time for my reading or other intellectual things.
Coming home at 9:20 PM, a quick shower and the dinner.
9:30 PM meal #8, 12 oz chicken breasts, lettuce salad with vinegar/Stevia/garlic dressing. Yum, yum. 370 calories, 81 g protein, 0 carbs (just lettuce, whatever it is), 5 g fat. My dog is still drooling on the sofa... so I give her her "delicious" dinner, nice dry food :-) But I put a piece of chicken to it too, so she thinks she eats my dinner.
10:15 PM, answering some email and writing down my daily nutrition and creating a plan for tomorrow. Somehow I feel hungry, so I eat one more meal (which exceeded my daily calories, which I set on 2500 cal).
10:45 PM meal #9, my cookie dough from 2 sc Just Whey. 220 cal, 46 g pro, 2 g carbs, 2 g fat. Yum, yum....
11:00 PM I need to go to sleep. Tomorrow, I get up at 6:30 AM, so I get 7.5 hours.
Wow, what a day it was today! My daily nutrition was 2625 calories, 454 g of protein, 105 g of carbs, 40 g of fat. My dog Peanut was pissed off today, I didn't have much time to play with her.

Messed Up Your Diet Today?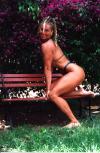 We all know that this happen. You have a good, regular day, so far you've done everything just perfect, a little morning cardio on the bike, you've eaten five small meals out of seven, you've been drinking water more than normally because it's so hot and humid outside, and you are in good mood. Suddenly, the day progresses into a stressful afternoon, small problems are coming on you from all directions, you have ten errands to run, a gym workout to do and two chicken breast meals waiting. The work day is over, and you feel stressed out. You find yourself heading to Taco Bell instead of the gym. What's up with that??? You just feel like giving up everything and skip the workout, f*** the chicken breast, you want a break. We all have days like that. I do, too, believe me, as well as many others. So just think that you are not alone. Now you need to show your discipline and inner power.
But say, you really lost it today. You filled your stomach with tacos, burritos and enchiladas. Do you feel good? Nope! You feel probably guilty, you messed up. So what to do now? Right now you might be balancing on a dangerous edge. You have too bad choices: either you start self sabotaging, "oh well, I messed up, it's over, I now I can just continue eating pizzas and don't need to touch the chicken breasts anymore." This thinking just leads you into a destructive food binge, or a downward spiral of bad eating. The second bad choice is that you start rationalizing your behavior. You actually "had to eat the tacos because you were carbohydrate depleted and your cortisol levels were too high and you needed to suppress them, and the beer helped to de-stress you. So you actually did the right thing." Hey! Wake up, you are in a denial! It only leads you on another bad spiral of more denial and rationalizing your messing up.
Instead, acknowledge that you messed up. It was not the perfect situation, but it happened. Think of why it happened and why you were not able to resist the taco temptation. Learn from it and go on. Forget it now, don't feel guilty, just start another day. The bad day was just an obstacle on the road to your goal, and you know that was not the only one. Learn how to deal with them and get stronger with each one that you meet.
So how do you deal with these "bad days" and even better, how do you avoid to mess up like that? Eat small meals, often, don't skip meals. Eat low carbohydrates meals, so you maintain your blood sugar stable, i.e. no cravings. Plan in a regular "cheat days". One day a week, or twice a month, a "controlled cheat day", when you can eat pretty much whatever you want. It keeps you mentally sane because you know that if you resist the temptation now, you will be able to eat it on your Day. What often happens, when the Day comes, you don't even feel like eating the bad food. Also, a cheat day is a little bit shocking for your body, which is good in a sense that it needs to adapt to the "emergency". Maybe the slowing metabolism kicks up, or the intestines get some great work.
If you feel like messing up your diet anyway, for whatever the reason is... before you go to the fridge, or to the car to drive to Taco Bell, take a pen and a piece of paper, sit down and write how you feel and why you are about to mess up your diet. Sometimes this little thing helps so much, because you are dealing with your emotions, that probably triggered all everything. Once you wrote down your reasons and feelings, you might not feel like eating the bad food anymore. Maybe you even feel motivated again and run quickly over to the gym.
Remember that discipline - especially in our nutrition - is very demanding and complex and requires both flexibility and a good judgment. Discipline itself must be disciplined. Often, we need to give up something: a comfort of our cozy evening home with a taco and a beer and a great movie, and it might be very difficult and painful at times. But discipline and giving up things brings you closer to your goals. And you grow, not just physically, but mentally too.
If you choose to see it this way, the moral of my story is:
Every obstacle that you overcome is an opportunity for you to grow and become stronger person, one step closer to your ultimate goal.

Selecting the Right Proteins
by Eric Serrano, MD

The primary reason to consume different types of proteins before and after a workout is due to each protein's amino acid profile and the insulin response created by different classes of proteins. Proteins such as egg, milk, and whey proteins have unique amino acid profiles, which will produce different effects on the body when they are consumed. This uniqueness among proteins will also produce different hormonal effects after the protein is consumed, most notably the change in blood insulin levels after they are ingested. When your goal is to increase body weight, consuming proteins that cause a large increase in insulin levels should be consumed before and after training.
If losing body fat is your goal, proteins that do not cause as large an increase in insulin should be eaten before and after training. To simplify this, I have listed various types of proteins below as either anabolic or anti-catabolic. Anabolic proteins do not cause a large increase in blood insulin levels while anti-catabolic proteins do significantly increase blood insulin.
Anabolic Proteins:
* Egg Protein
* Casein or Milk Proteins
* Red Meat
* Whey Protein Concentrates
Anti-Catabolic Proteins:
* Whey Protein Isolate
* Cottage Cheese

How To Successfully Sabotage That Great Idea Of Yours
I'm sure that you can recall many times when you have had a brain wave, a bolt from the sky, a sudden idea or an intrusion that you never brought to fruition for any number of reasons. Maybe you initially thought the idea was so brilliant that it seemed to be the answer you have been looking for, but still nothing came of it. Why is it that some people appear to be able to get novel new ideas and create terrific success for themselves whilst others (the majority) seem to flounder before they ever get started?
Is it that they are more intelligent or more 'lucky' than the average person, or is there some mysterious secret to which they are party to? The answer is no. We all have the same ability to create our own success using our own original ideas, it's just that most of us don't have the belief in those ideas or don't have the confidence to stick with them. There are many ways to sabotage our ideas, for example:
1. Dissect the idea piece by piece, but not know when to stop.
If you are anything like me you would examine the idea as if under a microscope, subjecting it to the 'what if?' question until you find something minutely wrong that causes you to say 'Ah ha I knew the idea won't work'. - Obviously there is a certain amount of examination that needs to be done, but it shows a lack of commitment if your enthusiasm deflates at the first sign of a potential problem.
2. Share the idea with others who are not qualified to pass comment.
This is dangerous territory if you are just starting out with a new idea. Many potential world-changing ideas have been shattered by well-meaning and 'loving' criticism. It is best that you keep the idea to yourself until you have built up enough reserves to face all those Doubting Thomas's
3. Become too intrigued with the idea.
It is so easy to 'not see the wood for the trees'. In other words, to become so close to the idea that you miss the obvious flaws that there might be. Develop a macro/micro vision, see the detail and also the overall picture.
4. Dismiss the idea out of hand
Bah! It will never work! How do you know until you tried it out? Many of the greatest ideas seemed barmy at the time they were conceded. Learn to be open minded and patient to see if the idea has potential.
5. It's been thought of before!
You can bet your bottom dollar that someone, somewhere has thought of your idea before. However, that does not mean that its been acted upon. Therefore you could be the first one to actually develop it into something tangible.
6. Play Devils Advocate with the idea
Sometimes it is a good practice to think the idea over from a different prospective, but not to the extent that you destroy it through over questioning.
7. Think that the idea is the best thing since sliced bread.
Maybe the idea is a world-beater, but you must be realistic in your thinking. Be careful not to let your ego get carried away or you will set yourself up for a fall.
8. Think that the idea has no merit.
This is the opposite of number 6 above. Humility is a powerful thing but remember you are just as capable of thinking great ideas as the best of them.
9. Go ahead with the idea without sufficient preparation first.
Do your homework. Find out background information, do some research. Persevere and when you have a solid foundation then show it to the world. Who knows? They might even pay you for it! The universe is full of great ideas just looking for someone to take and carry them though to fruition. If you learn to open your mind with an expectant heart, you will receive all the ideas that you desire.

Muscle Growth and Fat Loss by Stimulating the Beta Agonist System
By Michael C. Prevost Ph.D.

The role of the beta-agonist pathway in controlling the body's
fat stores, muscle hypertrophy (growth), the body's response to exercise and
even muscle fiber type has been brought to light in the last 10 years through
the efforts of hundreds of scientists with literally thousands of papers being
published on the subject. Clearly, the beta-agonist pathway is one of the most
important signalling pathways in the body. To understand how the beta-agonist
pathway works and what role Caffeine, Ephedrine and Aspirin plays in the
system one must first understand what a beta-agonist is and what they do.

On the surfaces of many of the cells of the body (for our purposes the most
important tissues are muscle and fat cells) are located b receptors. These
b receptors bind b-agonists (adrenaline and noradrenaline). When a beta-agonist
is bound to a b receptor, the receptor initiates a series of chemical reactions
that results in the production of a chemical messenger called C-AMP. This
C-AMP then activates enzymes that phosphorylate proteins. Why is this
important? Well, many of these proteins are enzymes and phosphorylation
activates some enzymes and de-acitvates others. In fat cells enzymes are
activated that induce lipolysis (fat breakdown). In muscle cells enzymes are
activated that increase metabolism and cause a host of other important
reactions which control muscle growth, fiber type and enzyme concentration.
So, how do ephedrine, caffeine and aspirin fit into this pathway? Ephedrine
enhances beta-agonist production and even acts as a beta-agonist itself. Caffeine
inhibits the breakdown of C-AMP. Aspirin inhibits the negative feedback loop
that would reduce beta-agonist production. So taken together these agents
enhance three to four different steps in the beta-agonist pathway.

Ephedrine's role as a lipolytic agent (one that breaks down body fat to be
used as energy) has been known for some time. It has been shown that
ephedrine when taken in therapeutic doses is mildly effective in the
management of obesity. The problem was that the initial lipolytic effects of
ephedrine were soon diminished as other steps in the pathway were reduced
in a negative feedback cycle. In an effort to enhance these steps that were
being downregulated due to negative feedback, scientists added caffeine
and aspirin to the regime. The result was a very effective combination in the
management of obesity (dosages given were 20mg ephedrine, 300mg
caffeine, and 80mg aspirin, roughly equivalent to one typical ephedrine tablet,
a cup of coffee and one aspirin). In fact, not only did the results (lipolysis) not
decrease over time as with most drugs, but they actually increased with time.
The effects of the combination of ephedrine, caffeine and aspirin were
categorized into desirable and undesirable effects. The desirable effects
were lipolysis and protein sparing (subjects on the drug combination retained
more muscle mass while dieting than the subjects on placebo). Again, these
desirable effects did not diminish over time. The undesirable effects,
increased heart rate and muscle tremors, lasted only a few days and never
returned. In fact, after 1 year of supplementation subjects were experiencing
no side effects but were still experiencing the desired effects of lipolysis and
protein sparing. To date it has not been determined if the ephedrine, caffeine
and aspirin combination can enhance muscle growth and fat loss in healthy,
exercising adults. However, based on what we know about the beta-agonist
system, it is certainly possible. It is important to note, however, that a small
handful of subjects among the large subject pool had to drop out of the study
due to an intolerance to the supplementation regime. So it appears that most
people can use the ephedrine, caffeine and aspirin combination with no
problems, while a small handful of people may be intolerant. A consultation
with a physician is suggested before beginning this supplementation regime.

The beta-agonist pathway may effect processes other than muscle sparing and
fat loss. In fact in chickens beta-agonists were shown to be stronger growth
promoting agents than steroids (believe it or not but poultry science folks are
doing a lot of research trying to produce more muscular chickens since the
muscle is the meat that we eat). In fact beta-agonists seem to produce muscle
growth without the stimulus of exercise, something steroids have failed to do.
However beta-agonists are not as effective in rats and the effects on humans is
unknown. The beta-agonist clenbuterol can cause slow twitch muscle fibers to
be converted to fast twitch fibers. It can also prevent muscle atrophy due to
disuse. Other studies have shown that b-antagonists (agents that block
b-receptors and prevent them from functioning) cause muscles to shift from
fast twitch to slow twitch and cause muscle atrophy (muscle wasting or
breakdown). These studies indicate that beta-agonists might play an important
role in the maintenance of fast twitch muscle fibers and in maintaining and
perhaps increasing muscle mass. It may be no coincidence then that large
amounts of beta-agonists (adrenaline and noradrenaline) are produced during
high intensity training sessions. Perhaps these beta-agonists are necessary in
initiating the muscle growth stimulus.

It is important to note that some beta-agonists can be dangerous (for example
clenbuterol and cocaine) and illegal and these substances are not
recommended. Also, as mentioned earlier, although the beta-agonist
combination of caffeine, ephedrine and aspirin appears to be safe (and of
course legal) a small number of people are intolerant and consultation with a
physician is suggested. Everyone should visit there doctor prior to using any
of these substances for a clean bill of health.

Many of the fat loss products available are based on these studies.
Suggested is a natural herbal extract containing

125 Mg - Ma Huang (ephedrine)
455 Mg - Guarana (caffeine)
83 Mg- White Willow Bark (aspirin)
Hardgainers... Are you there?

If you are one of these "hardgainers", please, don't hate me now. I agree that we all have a different level of genetic gifts in bodybuilding. Some of us enjoy calling themselves "hardgainers". Hey, it sounds cool, but I think that it is just a wonderful excuse for not being disciplined and not believing in oneself... (ops, now I am asking for some email harassments... :-) ).
Every challenge, and in this case, every training challenge requires experimenting, until you find what works for you, your body type and your genetic. You have to experiment with your nutrition, training, resting and supplements. Experiment, write down your observations and results and learn. Be persistent. To change your eating for a week and say "it doesn't work" and go back to your old habits, it won't work. Don't fear to try new things, even though you might think it's "crazy", maybe it's just what your body needs.
In your nutrition, play with your calories, if you don't grow, increase your intake. Maybe even more. And maybe even more. Increase your protein intake, try to do different food combinations, micronutrient (protein, carbohydrates, fat) ratios. About two years ago, when I was getting ready for a contest and experimenting with my nutrition, I discovered that if I eat 30% of my calories in carbohydrates, I do fine. Even if I go below 20%, I do fine. But if I stay just around 20-25%, I start losing too much muscle mass. Strange, huh? So now, when I am dieting and cutting on my carbs, I try to avoid the "dangerous" zone for me. And I am there somewhere around 15% calories from carbohydrates. Find your numbers and what will work best for you and your goal.
The same is about training. Experiment with different exercises, sets, repetitions, intensity, free weights or machines, amount of cardio that you do, timing of your cardio, intensity of your cardio. And also your rest, sleep and maybe even some naps? How do you manage your stress?
Too often we can hear at the gym "poor me, hardgainer, I work so hard and don't grow..." Bodybuilding is a life style. Bodybuilding is a discipline. Remember that every challenge is an opportunity to get stronger, and every little improvement is a step towards your goal. You have to believe that you are able to reach your goal, and you will accomplish what you plan to.
When you go/ride/drive to the gym, plan your workout in your head. Visualize, get mentally ready. When you walk in, stop thinking about your work, your wife/husband/lover or about what you have to do when you leave the gym. Forget all these thoughts and focus only on the weights and your contracting muscles. Don't chit chat with people during your workouts, instead stretch between sets and prepare for the next set. Visualize your perfect body. If you really have to talk to people and socialize, do it when you are done with your workout. But not too long, you know that you have to eat as soon as possible, right?
Don't make excuses. Do you want to gain muscles? You have to eat! Do you eat your six meals every day? Or does it sometimes happen that you skip a meal? Ops!!! Imagine you skip a meal, just one 500 calorie meal, every other day. It adds up to 1500-2000 calorie less each week! It is approximately 90000 calories less per year. That could be 22500 grams of protein. (Man, that's a lot of chicken breasts... ). A lot of opportunities to grow are missed... Right, hardgainer!?
So are you a hardgainer, or you are just not disciplined enough? You tell me. There's nothing like you "don't have time", you "have an important errand" or you "have nothing to eat around you right now". I too have a busy schedule, and important things to do. But I plan every morning, or an evening before. I go through my day in my head and plan what times I have to eat. If I am in a meeting, or driving the car or somewhere else, I plan in a convenient "food", a bar, a protein shake, a cooked chicken breast. I carry my meals with me, if I have to. I never miss a meal. I try not to delay the meal, if it happens (sometimes it does...), it's not more than 15 minutes.
That sounds so inconvenient, doesn't it? Maybe, at first. Eventually you get used to it. Always carrying a little box with food, and always planning your life around your meal times. Hey, bodybuilding is a life style, isn't it?
On a Funny Linguistic Note
The Washington Post recently published a contest for readers in which they were asked to supply alternate meanings for various words. The following were some of the winning entries:
Abdicate (v.), to give up all hope of ever having a flat stomach.
Carcinoma (n.), a valley in California, notable for its heavy smog.
Esplanade (v.), to attempt an explanation while drunk.
Willy-nilly (adj.), impotent
Flabbergasted (adj.), appalled over how much weight you have gained.
Negligent (adj.), describes a condition in which you absentmindedly answer the door in your nightie.
Lymph (v.), to walk with a lisp.
Gargoyle (n.), an olive-flavored mouthwash.
Bustard (n.), a very rude bus driver.
Coffee (n.), a person who is coughed upon.
Flatulence (n.) the emergency vehicle that picks you up after you are run over by a steamroller.
Balderdash (n.), a rapidly receding hairline.
Testicle (n.), a humorous question on an exam.
Semantics (n.), pranks conducted by young men studying for the priesthood, including such things as gluing the pages of the priest's prayer book together just before vespers.
Rectitude (n.), the formal, dignified demeanor assumed by a proctologist immediately before he examines you.
Marionettes (n.), residents of Washington who have been jerked around by former the mayor.
Oyster (n.), a person who sprinkles his conversation with Yiddish expressions.
Circumvent (n.), the opening in the front of boxer shorts.
Frisbatarianism (n.), The belief that, when you die, your soul goes up on the roof and gets stuck there.

The Washington Post's Style Invitational also asked readers to take any word from the dictionary, alter it by adding, subtracting or changing one letter, and supply a new definition. Here are some recent winners:
Sarchasm: The gulf between the author of sarcastic wit and the reader who doesn't get it.
Reintarnation: Coming back to life as a hillbilly
Giraffiti: Vandalism spray-painted very high.
Foreploy: Any misrepresentation about yourself for the purpose of obtaining sex.
Inoculatte: To take coffee intravenously.
Osteopornosis: A degenerate disease.
Karmageddon: It's like, when everybody is sending off all these really bad vibes, right? And then, like, the Earth explodes and it's like a serious bummer.
Glibido: All talk and no action.
Dopeler effect: The tendency of stupid ideas to seem smarter when theycome at you rapidly.
Intaxication: Euphoria at getting a refund from the IRS, which lasts until you realize it was your money to start with.
And, best of all...
Ignoranus: A person who's both stupid and an asshole.


.

---

See you in August!!!!


Join my awesome newsletter. It's free!
Look at the latest issues.